Since the release of Villainous issue one, OR Comics are cropping up in different great sites with reviews and interviews. The Facebook page has also gathered more popularity and some readers have provided feedback of their own! Here is an omnibus, if you will, of OR in the media.
Interviews/Publicity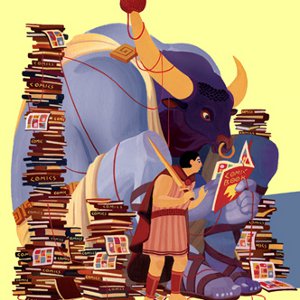 Hot of the heels of Thought Bubble 2010, The OR Team gave two promotional interviews on Villainous!
The first one, thanks to David Monteith of the site and podcast Geek Syndicate, is a 30 second promotion clip by writer Gary Chudleigh, done right from the OR table at Thought Bubble.
Watch the Geek Sydincate promo
The talented journalism crew of TB Life 24, Nick Thompson and Rosie K. Stoker, also had a chat with the OR Team when covering Thought Bubble for the Leeds Film Festival. Check out our interview and more.
Watch the TB Life 24 interview
A longer more in depth typed interview can be found at Liberation Frequency, a new site about comics, TV and Movies!
Reviews
Villainous issue one has received heaps of positive reviews, which can be read right here.
Geek Syndicate produced two reviews, one for the podcast by David Monteith and one for article by Matt Pease.
Podcast Review - 36:17 is our section, but the entire podcast is highly recommended! "I really liked it". - David Moneith
Article Review - "It's definitely in the upper quality ranks of small press comics I've read."
"If you are looking for some Small Press comics that feel like a vertigo title then this is for you." - Matt Pease
Another review was done for the fantastic new site Geek Chocolate by Gordon Robertson.
Read it here.
"There is a nice cinematic feel to the script."
"It has me coming back for more, which is pretty much what you would want an opening issue to do." - Gordon Robertson
User Reviews
The Facebook page for OR Comics has a review tab, check out what people have been saying!
"The writing is quite inspired."
"It's grimy, disturbing and there are some pages that I thought if I touched them, they'd leave soot on my fingers."
"This is definitely a story you've not read before and definitely something worth investing in."
- Michael Georgiou
"Very nicely inked and I can imagine this is only gonna get better with time!"
- Scott Dorman
"An exciting plot that keeps running at a fast pace. Very interested to see where this series goes."
- Gary McKinnon
The OR Team would like to thank everyone for their contributions and press coverage to help promote Villainous and Obscure Reference Comics!
More material will be added when available, so keep checking back, and remember to sign up to the site to read all our content ABSOLUTELY FREE!
<![if gt IE 6]>
<![endif]>
You might also Like...